Orlando, Florida is the place where childhood comes alive – for both children and parents. From amusement park rides to spectacular shows to meeting your favorite Disney characters. It's all so magical and exciting! But if you have young children the experience can end up being expensive, tiring, and overwhelming. 
My husband had a work conference in Orlando for two days, so Kian and I decided to tag along. We ended up staying for five days there, and in that time we jam-packed our schedule with so many fun activities! The only time we took a break was for nap time. But once the nap was over, we were up and moving again.
We decided to not go to Disney World with our toddler because let's face it, we're not about to force him to be excited about characters that he doesn't even care about. When you calculate the cost of two adult tickets and all the time you spend waiting in lines, it's just not even worth it right now.
We will definitely do Disney when he's older, but for this trip we decided to come up with alternative ways to have fun and boy did we have a blast! I've listed them below along with helpful tips to make your experience even better! Enjoy!
Our Top 5 Kid-Friendly Things in do in Orlando
1. Crayola Experience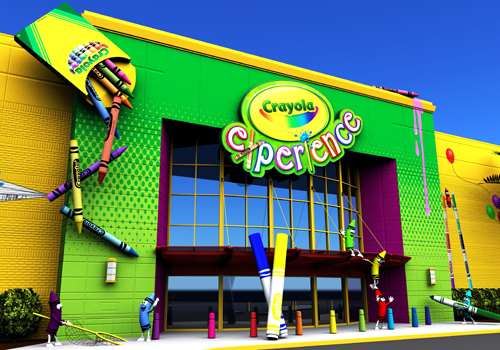 Price: $22.99/adult       FREE/2 and under
My Tips: This museum takes you through several stations where you do an activity related to Crayola such as customizing your own crayon, painting with wax, interactive coloring, and more. Kian's favorite part was Toddler Town, which is basically a small indoor playground. You can easily spend 2-3 hours there so plan to get in early. We didn't anticipate having so much to do and we got there late, which meant we skipped nap time and well, you know how that goes! Also, it's located inside of the very beautiful Florida mall, so you could enjoy a quiet coffee or shopping afterwards while your child sleeps in the stroller.
2. Orlando Science Center

Price: $20.95/adult          $14.95/ages 3-11            FREE/2 and under
My Tips: This is another place that you could easily spend the entire day in so plan accordingly! This is an interactive museum that's full of STEM based learning activities that expose children to the basics of sound, light, water, and much more! We LOVED KidsTown which had activities for young children including making goop, playing in a water table, AND wait for it…..an indoor playground! Bring an extra change of clothes for the water play. Also, the cafeteria only offers Subway, so if that doesn't work for you pack an extra meal for your little one because once you leave the museum, you won't be able to get back in!

 3. Amway Center
Price: depends on seat preference/adult                  FREE/3 and under 
My Tips: We really didn't care about getting the best seats in the house, especially since we know that going to loud places can be difficult with a young child. We ended up buying the cheapest tickets ($12.99!), and we had an amazing time! Kian is really into music and throwing balls, so this was perfect for him. We ended up leaving in the 3rd quarter to avoid traffic coming out. They had chicken tenders and fries at the concession stand outside so that worked out for dinner. My biggest tip would be to NOT bring a book bag with you. They do not allow book bags at the Amway Center, and you may risk not being able to enter! Just pack your diapers and other essentials in a purse to avoid any trouble with security.
4. Rainforest Cafe
Price: https://disneyland.disney.go.com/dining/downtown-disney-district/rainforest-cafe/menus/lunch/
My Tips: This restaurant is located inside Downtown Disney so make plans on spending a good 2-3 hours in the evening here. I would definitely make reservations ahead of time. We saw people being told that their wait time would be between 1.5-2 hours! The prices were pretty reasonable, but my husband and I still decided to split one entree so that we could have enough room for dessert! Our toddler LOVED when the rainforest came "alive" with the moving gorillas and elephants. We thoroughly enjoyed our meal! Afterwards, we went outside to walk around the very lively Downtown Disney. There was a free concert, dance party for kids, carousel rides, and of course shops to get all your Disney gear! We got some ice cream from Ghirardelli Ice Cream Shop and sat down to enjoy the concert.
5. WonderWorks 
Price: $29.99/adult                         FREE/2 and under
My Tips: This place is packed with interactive activities for adults and children. I would say, however, that we had the most fun on the 2nd floor. They had bubbles, music, arcade games, and coloring stations! Plan on taking your sweet time on this floor because well, there really isn't anything else that your little one will truly enjoy. If you have other adults with you, you could take turns taking care of the kids while the other one goes up to the rope course or plays laser tag. We spent about 2 hours here and that was plenty of time. I did pack plenty of snacks and water for us.
I hope this was helpful as you plan your next family vacation! Don't forget to subscribe to my blog to get more tips and inspiration!
Stay Blessed, Sharmin